Exposed Aggregate Concrete has become a popular pavement option for commercial and residential applications. However, a recent study conducted in Queensland has raised some questions relating to the negative effects on people and the environment of this type of pavement.

Installation of an exposed aggregate pavement involves the pouring and screeding of concrete. In order to expose the aggregates contained within the concrete mix, the poured concrete is blasted by use of a pressure washer.

The cause for concern is the dust and slurry that is generated by the surface water blasting of the poured concrete. The dust escapes into the air whilst the slurry if not contained may enter into sewer drains, storm water and water courses. Serious concern also applies to the make-up of the dust and slurry.

Silica, often referred to as quartz, is a common mineral that is found in many materials used on construction sites, including sand, concrete, masonry, rock, granite and landscaping materials. The dust created by cutting, grinding, or drilling these materials can contain crystalline silica particles.

Crystalline Silica has been classified as hazardous. Breathing crystalline silica dust can cause silicosis which may be disabling or fatal.

The concrete dust and slurry created by water blasting concrete contains crystalline silica. In addition, the dust and slurry are highly alkaline and corrosive. We know that for humans and animals concrete dust irritates the skin and the mucous membrane of the eyes. Furthermore, concrete dust can also damage motor vehicles and nearby buildings by damaging paintwork and other surfaces in the surrounding areas.

The best practice measures to ensure public and work safety are to employ engineering controls that minimise the risk of exposure to generalised dust and slurry such as:
Shot blasting and cutting should be performed using water to reduce dust
Barriers should be installed to isolate blast areas
Using ventilation to remove dust is recommended
Refrain from performing abrasive blasting in high winds
Workers should not eat or drink near blast areas; and
Workers should be provided with shower facilities and changing areas to prevent taking dust home*.
Immediate area should be sand bagged to isolate and collect slurry.

Slurry should be collected before it dries by use of a wet vacuum.

Some contractors may try to save time and money by avoiding the above and, as a result, dust and slurry from the wet blasting process either escapes into the environment by becoming airborne or flows into our watercourses. This can be very dangerous for workers, pedestrians, animals and the eco-system.


Image 1 Image 2 Image 3 Image 4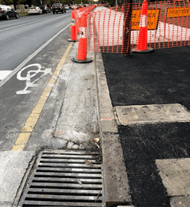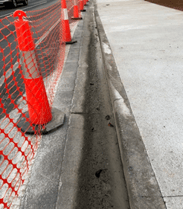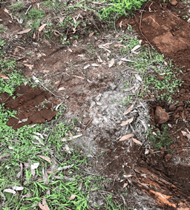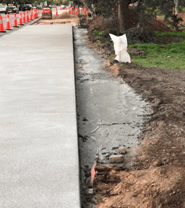 In Images 1 and 4, you can clearly see that the concrete slurry is flowing down into the local storm-water system. The drain should be covered in this process and the excess slurry should be removed with either an industrial wet vacuum cleaner, street sweeper or hydro vacuum truck. It is evident that this type of path construction creates a lot of concrete slurry creating a double-edged sword, in terms of risk. If the slurry remains wet and runs into the drain it is very dangerous for our waterways and the environment if not handled correctly. On the other hand, if the slurry dries on the street or nature strip (as seen in Images 2 and 3) silica can be distributed into the airways if the slurry is disrupted. Disruption can be as simple as dry sweeping, walking, vehicles and heavy winds.

For comparison please read our blog on the advantage of concrete pavers compared with in-situ concrete.
Click here to request a quote on what would work best for your next project.
Sources
*CPWR. Work Safely with Silica