Jeffrey Smart was one of the most eminent Australian artists of the 20th century. Born in Adelaide in July of 1921, Smart's life is detailed with success and love.
Known for his perceptionist depictions of urban landscapes, Smart's artwork spoke to millions of people the world over. In 1963, Smart left Australia, relocating to Tuscany, Italy, where he lived until his date of passing on the 20th of June, 2013.
A month later, in honour of Smart's dedication to the arts, the University of South Australia announced that its new state of the 'art' building at its City West Campus would be named the Jeffrey Smart Building.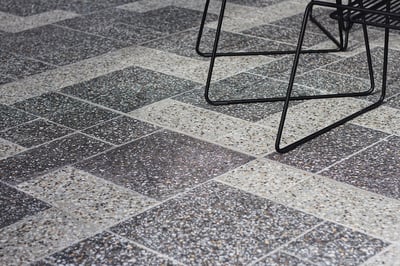 The Smart Terrazzo Design
As part of the building's on-going redevelopment, Best Bricks & Pavers were honoured to help keep Smart's legacy alive as we paved an essential component of the building's ground level.
Our Terrazzo Vecchia Scuola Nero Black Series and Vecchia Scuola Black Series emphasize the tone and aesthetic of Smart's iconic imagery. Smart's fascination with painting the urban, concrete world with beauty and authenticity is truly captured in our naturally coloured Terrazzo products.
By laying these two products alongside each other, we were able to create a distinct juxtaposition that could be found in one of Smart's works such as his 1972 piece, Radical Road.
In Smart's own words, "I am trying to paint the real world I live in, as beautifully as I can, with my own eyes."
You can view Best's complete range of Terrazzo tiles by clicking here.
To view other Project Showcases by Best, please click here.
On this project, Best worked in conjunction with Architects Swanbury Penglase.