Welcome to our new and improved Safety Yellow Tactile Indicator. This new, vibrant yellow provides better visual contrast than ever before to any walking surface.
If you need to warn pedestrians of an upcoming hazard, you cannot beat this tactile indicator, the colour stands out.
What are Tactile Indicators?
Tactile Indicators are an integral part of any urban environment today. They are products that are installed into the ground, consisting of a series of raised dots or slots. They act as a physical change in texture that can be felt by foot or with a cane, to warn blind or vision impaired people of impending obstacles or hazards in their path of travel – and they also act as a visual change for pedestrians who have low vision or failing sight.
Because they offer both a physical and visual warning to pedestrians, their colour is as important as the texture. At Best, we offer a range of bright colours that make our tactile indicators really stand out. And we are excited to have just launched this new, more vivid yellow indicator to our range.
Are Tactile Indicators mandatory in Australia?
Standards Australia has made it compulsory for Tactile Indicators to be installed in all new and refurbished public environments. There are very specific requirements relating to the design, installation and positioning of tactile indicators, to ensure that there is a consistent experience for the more than 600,000 blind and visually impaired people across Australia.
Where should Tactile Indicators be used?
Tactile Indicators are required across a multitude of common urban installations, including:
At the top and bottom of ramps or stairs
Landings
Escalators
Bus shelters
Obstacles
Pedestrian crossings
Driveways
Car parks
And many more!
Why choose Best Tactile Indicators?
Best's Tactile Indicators are manufactured from fine marble dust infused mix and pressed to 450 tonnes, for incredible strength. The dots, slots and colours are infused into the paver itself, so they are superior to polyurethane tactile indicators, ensuring there is no chance of them peeling off from their intended location.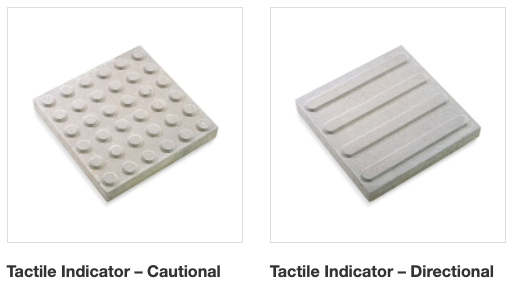 Best offers a range of Cautional Indicators (using dots) and Directional Indicators (using slots). All of our Tactile Indicators are made right here in Australia, have superior slip resistance, comply with Australian Standard AS/NZS 1428.4.1- 2009 and are uniform in size and shape, so will never be a trip hazard.
Best's Cautional Indicators are used to alert to an immediate hazard, such as stairs. These types of hazards are where our new Safety Yellow is an obvious choice as it offers superior visual contrast. While Directional Indicators are typically used to guide someone – such as letting them know that there is a bus stop ahead and guiding that person to where the bus will actually stop.
Our new Safety Yellow tactile indicator is proving to be especially popular, as it offers outstanding visibility to pedestrians with low vision or failing sight. In addition to our new Safety Yellow, the below Terracotta, Slate and White are the other regular colours in our tactile indicator range.

Need a tactile indicator that stands out, and offers a superior visual contrast to your walking surface? Then you cannot go past our new vivid Safety Yellow.
At Best, we have a thorough understanding of what is required to make the most durable, vibrant, functional Tactile Indicators on the market, and the rules and regulations that govern their use.
Contact us today to discuss our new vibrant yellow tactile indicators, and how they can elevate your next project.