The new developments along North Terrace are brightening up a previously dull end of the Adelaide CBD. Within the last few years the area has welcomed the new Royal Adelaide Hospital, South Australian Health and Medical Research Institute, Adelaide University Health and Medical Sciences Building, and most recently, the UniSA Health and Innovation Building. The stunning architecture of these new buildings has added to the impressive skyline and one of the most impressive aspects of the new UniSA Health and Innovation Building is the tiling on the ground floor.
Best Bricks & Pavers were commissioned to find a flooring solution to add to the chic of the building. Using Terrazzo tiles both indoors and out, Best were able to create an elegant solution. 400x400mm Terrazzo tiles were laid in a stretcher bond pattern with 400x100mm Terrazzo tiles to promote a unique and impressive look. These same 400x100mm tiles are used in blocks to separate different areas of the building, as seen here.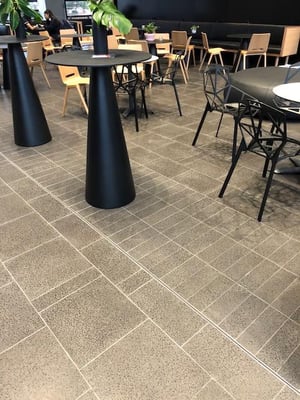 The project sees a combination of both Honed and Black Series finishes of the Granite Nuit Terrazzo tile in a range of different sizes and thicknesses. 2080m2 of these tiles were supplied by Best. Both the Honed and Black Series finishes of the Terrazzo tile meet the two highest levels of slip resistance, which is perfect for an outdoor pedestrian area that can be drenched by rain. This ensures that pedestrians walking around the building are safe even when the floor is wet.
In the outdoor areas, Terrazzo tiles were used in differing colours to create contrasting blocks of tiles. This breaks up what would otherwise be a bland footpath to create a visually pleasing experience as you walk by.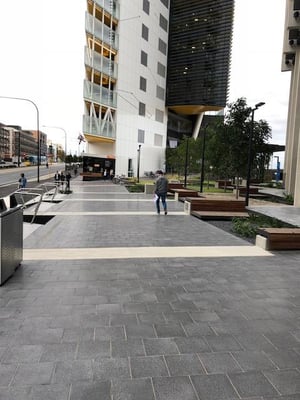 Best has a wealth of experience in delivering high quality pavers to commercial and residential projects. This experience gives Best the flair to know exactly how to use pavers to finish your project elegantly.
If you have any queries on Terrazzo Tiles or any other Best product, feel free to contact us.