Anything the community can do to aid visually impaired people should be welcomed. Tactile indicators are a great example of this. They are used to warn visually impaired people of potential hazards in public areas. Tactile indicators can be seen at the edge of staircases, at pedestrian intersections and even at bus stops.
Not all tactile indicators are the same. In fact, there are different types and standards in which they should follow.
The two main types of tactile indicators are Cautional and Directional.

Cautional Tactile Indicators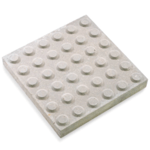 Cautional Tactile Indicators are used to alert that a hazard is immediately present. They are required by international standards to be present across the entire length that a hazard occupies. For example, this would mean across the entire length of a set of stairs. This gives the vision impaired enough warning of the impending hazard.


Directional Tactile Indicators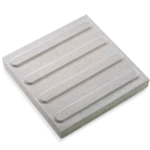 Directional Tactile Indicators are typically used to guide the vision impaired members of our community. They are required to be distinguishable both visually and underfoot from Cautional Indicators, which means they have a different shape. The "bars" on the top of the indicator run in the direction that people are to be guided to. These indicators are commonly seen at bus stops as they run perpendicular to the footpath, guiding towards where the bus will stop. In this situation, the Directional Indicators will be met by Cautional Indicators to let people know that are close to where the bus will stop.
What to look for in Tactile Indicators
The most important feature that all tactile indicators should have is compliance with AS/NZS 1428.4.1- 2009. This ensures that they are fit for purpose within the community and are not a tripping or slipping hazard.
Best manufactures tactile indicators as a solid concrete paver, with the tactile surface moulded into the paver. This is beneficial for many reasons. Essentially meaning that they share the great qualities that concrete pavers have such as:
Slip resistance;
Strength and therefore not prone to cracking; and
Variety of colours.
This allows you to find a combination of colours for your tactile indicators that work with the surroundings.
If you would like to know more about the different types and styles of tactile indicators, or any of the rules and regulations surrounding them, please feel free to contact Best today.